The Sun Today : Updated March 2, 2015
Solar Flare Risk

M-Class: 05%

X-Class: 01%




Active Watches

Geomag. Storm YES

Radiation Storm NO
| | | |
| --- | --- | --- |
| | Solar X-Rays: | Geomagnetic Field: |
3-Day Geomagnetic Forecast [Details]
March 2

March 3

March 4

5 (G1)
Max Kp

4 (G0)
Max Kp

3 (G0)
Max Kp

Prob-M 25%
Prob-H 60%

Prob-M 10%
Prob-H 40%

Prob-M 01%
Prob-H 25%
REAL TIME SOLAR WIND - [ACE]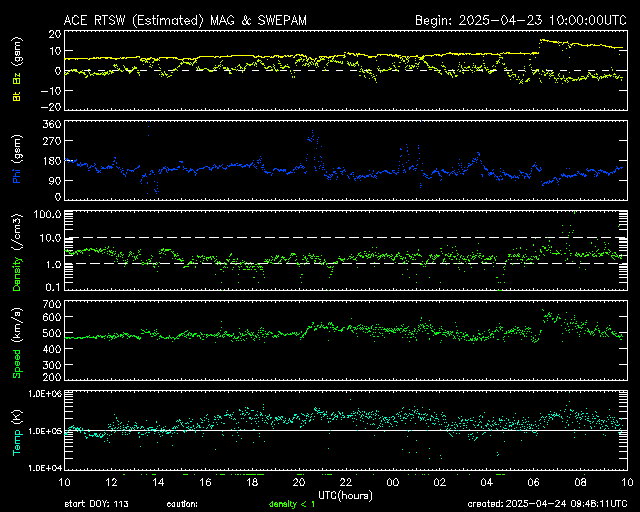 GLOBAL D-LAYER ABSORPTION
[Expand]
[Expand]
[More Magnetometers]
SolarHam is a website all about the Sun and how it affects Earth. It is also an Amateur (Ham) Radio website.

SolarHam is routinely updated with breaking news, sometimes hours before other Space News websites. You can trust SolarHam.com for the most up to date and accurate solar information on the internet.

SolarHam.com launched on March 15, 2006. The purpose of the website is to provide real time solar news, as well as data from various sources, all located in one spot for easy navigation. Sources include,

NOAA Space Weather Prediction Center (SWPC),
Solar Dynamics Observatory (SDO),
Solar and Heliospheric Observatory (SOHO),
Solar Terrestrial Relations Observatory (STEREO),
Advanced Composition Explorer (ACE),
Large Angle and Spectrometric Coronagraph Experiment (LASCO),
as well as many others.

This website is only online because of the kind financial support of its users and sponsors. If you would like to support the work that I do, please consider a donation if at all possible. Click HERE for more information.
43,794,000
Unique Visitors
Since April, 2006
Thank You!

AVERAGES | FEB. Solar Flux 128.8
| Sunspots 70.6
| Flare Max M2.4
Welcome to SolarHam.com &nbsp All of your solar and aurora needs in one place!
Latest Space Weather News and Updates

ZeroFive is located in the United States and specializes in multi-band vertical antennas and much more.
Off The Map Travel

Wishing you could see the northern lights?
Make that dream a reality!
Visit Off The Map Travel today.
March 2, 2015 @ 16:05 UTC
M3.7 Solar Flare
Sunspot 2290 continues to say bye on Monday with an M3.7 eruption detected at 15:28 UTC. Attached image courtesy of the Solar Dynamics Observatory (SDO) using the 304 angstroms channel captures the nice looking eruption off the west limb.
March 2, 2015 @ 15:20 UTC
Solar Update
Below is an updated look at the visible solar disk on Monday. Solar activity during the past 24 hours was moderate. Region 2290, now located behind the west limb, produced a pair of low level M-Flares, along with several minor C-Flares. The active region will continue to turn further onto the farside of the sun and should have little to no influence on our planet. Elsewhere, region 2292 grew during the past day and will continue to be monitored. Region 2293 decayed somewhat and is not considered a high threat for noteworthy solar flares. A number of coronal mass ejections were detected during the past day and each appear to have originated from the farside of the sun.

Periods of minor (G1) geomagnetic storming continued at high latitudes. Solar wind speeds remain elevated above 600 km/s. Geomagnetic conditions should gradually decline during the next 48 hours. Sky watchers, especially around the Arctic Circle should remain alert for visible aurora displays.
March 2, 2015 @ 11:10 UTC
Sunspot 2290 Saying GoodBye
Solar activity increased to moderate levels on Monday morning with a pair of low level M-Flares detected around departing region 2290 off the northwest limb. The first was an M1.0 at 06:39 UTC. The second was an M1.1 at 09:48 UTC. Unfortunately due to the location off the limb, any future flaring around this region will be directed away from our planet. Image by SDO.
March 1, 2015 @ 07:40 UTC
Minor Geomagnetic Storm
Minor (G1) geomagnetic storm conditions observed at high latitudes during the early hours of Sunday. The solar wind streaming past Earth is currently above 500 km/s and is contributing to the enhancement.

Our friend Zoltan Kenwell in Alberta, Canada sends us this nice image that he captured early on Sunday morning. "Here is a quick upload from on location. Beautiful night. -5 deg C, no wind, except the solar wind! 120 km NW of Edmonton Alberta, Canada." Thanks for sharing!
---
Older News Archive | Current Month


Prepared jointly by the U.S. Dept. of Commerce, NOAA,
Space Weather Prediction Center and the U.S. Air Force.
UPDATED 2015 March 02 1230 UTC

.24 hr Summary...
Solar activity began the period at low levels but increased to moderate
levels late this period.  Region 2290 (N22W84, Hsx/Alpha) produced a
pair of M1 (R1-Minor) flares at 02/0639 UTC and 02/0948 UTC, the first
of which had an associated 1f optical classification.  In addition to
the R1 events, Region 2290 produced numerous low and mid-level C-class
flares this period.  Due to Region 2290s proximity to the western limb
sunspot and magnetic classification were difficult to accurately
determine.  Region 2292 (S08W37, Dai/beta), which reemerged from plage
yesterday, exhibited moderate growth in its leader and intermediate spot
areas but was largely unproductive.  Region 2293 (N06W05, Dai-beta)
underwent minor decay this period.

Numerous coronal mass ejections (CMEs) were observed off the
northwestern limb associated with flare activity from Region 2290 but
initial analysis indicates that none were Earth-directed.

[Full Report and Forecasts]
[Report of Solar-Geophysical Activity]


A - Alpha (single polarity spot).
B - Beta (bipolar spot configuration).
G - Gamma (atypical mixture of polarities).
BG - Beta-Gamma (mixture of polarities in a dominantly bipolar configuration).
D - Delta (opposite polarity umbrae within single penumbra).
BD - Beta with a Delta configuration.
BGD - Beta-Gamma with a Delta configuration.
[Latest NOAA Sunspot Summary]
[Latest Solar Region Summary (SRS)]
[SolarHam Sunspot Summary]