The Sun Today : Updated May 25, 2015
Solar Flare Risk

M-Class: 05%

X-Class: 01%




Active Watches

Geomag. Storm NO

Radiation Storm NO
| | | |
| --- | --- | --- |
| | Solar X-Rays: | Geomagnetic Field: |
3-Day Geomagnetic Forecast [Details]
May 25

May 26

May 27

2 (G0)
Max Kp

2 (G0)
Max Kp

2 (G0)
Max Kp

Prob-M 01%
Prob-H 20%

Prob-M 01%
Prob-H 20%

Prob-M 05%
Prob-H 25%
REAL TIME SOLAR WIND - [ACE]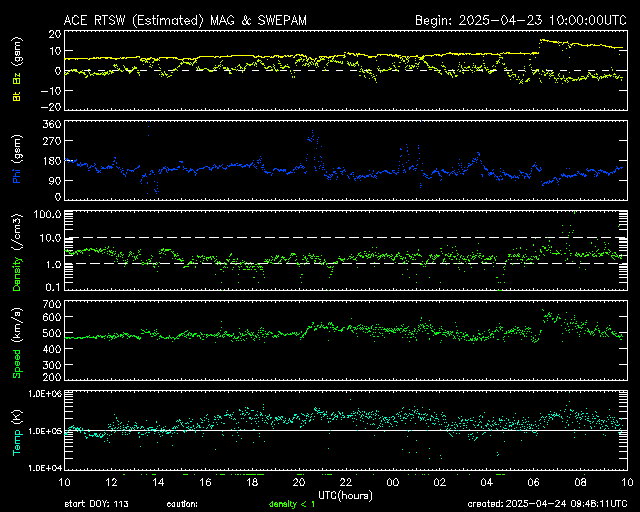 GLOBAL D-LAYER ABSORPTION
[Expand]
[Expand]
[More Magnetometers]
SolarHam is a website all about the Sun and how it affects Earth. It is also an Amateur (Ham) Radio website.

SolarHam is routinely updated with breaking news, sometimes hours before other Space News websites. You can trust SolarHam.com for the most up to date and accurate solar information on the internet.

SolarHam.com launched on March 15, 2006. The purpose of the website is to provide real time solar news, as well as data from various sources, all located in one spot for easy navigation. Sources include,

NOAA Space Weather Prediction Center (SWPC),
Solar Dynamics Observatory (SDO),
Solar and Heliospheric Observatory (SOHO),
Solar Terrestrial Relations Observatory (STEREO),
Advanced Composition Explorer (ACE),
Large Angle and Spectrometric Coronagraph Experiment (LASCO),
as well as many others.

This website is only online because of the kind financial support of its users and sponsors. If you would like to support the work that I do, please consider a donation if at all possible. Click HERE for more information.
46,179,000
Unique Visitors
Since April, 2006
Thank You!

AVERAGES | APR. Solar Flux 129.2
| Sunspots 72.5
| Flare Max M4.0
Welcome to SolarHam.com &nbsp All of your solar and aurora needs in one place!
Latest Space Weather News and Updates
Off The Map Travel

Wishing you could see the northern lights?
Make that dream a reality!
Visit Off The Map Travel today.
May 25, 2015 @ 12:10 UTC
Solar Update
Good morning. Below is an updated look at the visible solar disk on Monday, along with a pair of long filaments now turning into a geoeffective position. Solar activity is at very low levels as we begin the new week. All five visible numbered regions are currently stable and the chances for noteworthy flare activity are slim. No Earth directed coronal mass ejections were detected during the past day. The aforementioned filaments should be watched closely during the upcoming week. Should one, or perhaps even both become unstable at some point, it could lead to an Earth directed CME. For now, we wait.
---
Older News Archive | Current Month


Prepared jointly by the U.S. Dept. of Commerce, NOAA,
Space Weather Prediction Center and the U.S. Air Force.
UPDATED 2015 May 25 1230 UTC

.24 hr Summary...
Solar activity remained at very low levels. Region 2349 (S20W56,
Cao/beta) showed signs of decay as the trailer spots lost their
penumbra, while the regions magnetic footprint remained simple, but
slightly stretched. Region 2353 (N07W38, Dao/beta) was relatively stable
as it lost penumbral coverage around its trailer spots, while the leader
spots consolidated and gained penumbral area. Region 2355 (S10E35,
Cao/beta) lost spots in its trailer polarity; and the other two regions
remained fairly stable.

At about 24/1245 UTC, SDO/AIA 304 imagery observed an eruptive
prominence from the SW limb. At 24/1325 UTC, SOHO/LASCO C2 imagery
observed an associated narrow, slow-moving coronal mass ejection (CME).
This CME does not appear to be on a Sun-Earth line due to its location
on or behind the limb. No other Earth-directed CMEs were observed this
period.

.Forecast...
Solar activity is expected to be very low with a chance for C-class
activity over the next three days (25-27 May), primarily from Regions
2349 and 2353.


[Full Report and Forecasts]
[Report of Solar-Geophysical Activity]


A - Alpha (single polarity spot).
B - Beta (bipolar spot configuration).
G - Gamma (atypical mixture of polarities).
BG - Beta-Gamma (mixture of polarities in a dominantly bipolar configuration).
D - Delta (opposite polarity umbrae within single penumbra).
BD - Beta with a Delta configuration.
BGD - Beta-Gamma with a Delta configuration.
[Latest NOAA Sunspot Summary]
[Latest Solar Region Summary (SRS)]
[SolarHam Sunspot Summary]