The Sun Today : Updated May 27, 2016
Solar Flare Risk

M-Class: 05%

X-Class: 01%




Active Watches

Geomag. Storm NO

Radiation Storm NO
| | | |
| --- | --- | --- |
| | Solar X-Rays: | Geomagnetic Field: |
3-Day Geomagnetic Forecast [Details]
May 27

May 28

May 29

4 (G0)
Max Kp

3 (G0)
Max Kp

4 (G0)
Max Kp

Prob-M 10%
Prob-H 35%

Prob-M 05%
Prob-H 30%

Prob-M 10%
Prob-H 35%
REAL TIME SOLAR WIND - [ACE]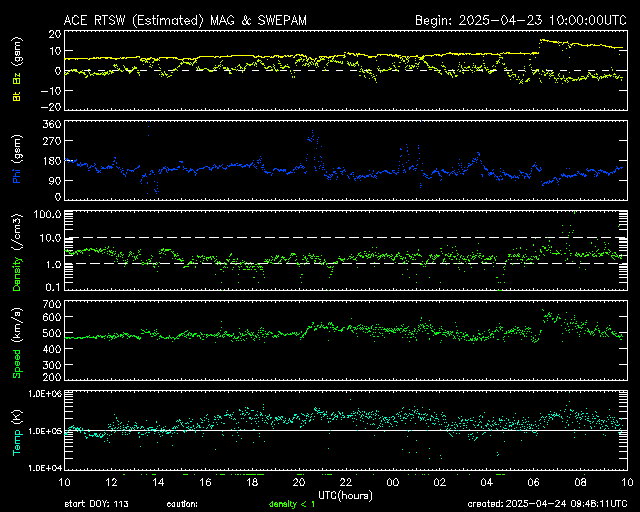 GLOBAL D-LAYER ABSORPTION
[Expand]
[Expand]
[More Magnetometers]
SolarHam is a website all about the Sun and how it affects Earth. It is also an Amateur (Ham) Radio website.

SolarHam is routinely updated with breaking news, sometimes hours before other Space News websites. You can trust SolarHam.com for the most up to date and accurate solar information on the internet.

SolarHam.com launched on March 15, 2006. The purpose of the website is to provide real time solar news, as well as data from various sources, all located in one spot for easy navigation. Sources include,

NOAA Space Weather Prediction Center (SWPC),
Solar Dynamics Observatory (SDO),
Solar and Heliospheric Observatory (SOHO),
Solar Terrestrial Relations Observatory (STEREO),
Advanced Composition Explorer (ACE),
Large Angle and Spectrometric Coronagraph Experiment (LASCO),
as well as many others.
55,530,000
Unique Visitors
Since April, 2006
Thank You!

AVERAGES | APR. Solar Flux 93.4
| Sunspots 39.2
| Flare Max M6.7
Welcome to SolarHam.com &nbsp All of your solar and aurora needs in one place!
Latest Space Weather News and Updates
Off The Map Travel

Wishing you could see the northern lights?
Make that dream a reality!
Visit Off The Map Travel today.
May 27, 2016 @ 13:05 UTC
Solar Update / Minor Storm Watch
Good morning. Activity on the sun remains fairly quiet with no major solar flares to report. Region 2546 rotated onto the west limb and is no longer in direct view. The lone remaining sunspot group, region 2548 located in the northwest quadrant, is stable and not considered a high threat for noteworthy solar flares. A filament eruption was observed in the northeast quadrant beginning at 23:00 UTC (May 26), however an Earth directed CME does not appear evident and should have little to no impact on our planet.

Geomagnetic activity also remains relatively quiet with only minor enhancements in the forecast while a minor coronal hole stream moves past our planet during the next 48-72 hours. Widespread aurora is not currently expected. Stay tuned to SolarHam.com for the latest spaceweather data and imagery.

Region 2548 on Friday (SDO/HMI)
---
Older News Archive | Current Month


Prepared jointly by the U.S. Dept. of Commerce, NOAA,
Space Weather Prediction Center and the U.S. Air Force.
UPDATED 2016 May 27 1230 UTC

.24 hr Summary...
Solar activity was low. Region 2548 (N13W43, Dai/beta) produced a C1/Sf
flare at 26/1336 UTC. Shortly after this event Region 2546 (S07, L=224),
which rotated around the western limb, produced a C1 flare at 26/1351
UTC with an associated Type IV radio sweep. As mentioned in the previous
discussion product an Earth-directed component is not anticipated from
either event due to the narrow signature and southwestern trajectory of
the visible CME. A disappearing solar filament (DSF) was observed
lifting off of the visible disk at approximately 27/0100 UTC in SDO/AIA
304 imagery. The majority of the ejecta appeared to get reabsorbed,
however, SWPC forecasters await additional LASCO chronograph imagery to
complete analysis of this event. There were no additional CMEs observed
in satellite imagery during the reporting period.
    
.Forecast...
Solar activity is expected to be low with a chance for C-class flares
throughout the forecast period (27-29 May) due to the flare history of
Regions 2546 and 2548.



[Report of Solar-Geophysical Activity]


A - Alpha (single polarity spot).
B - Beta (bipolar spot configuration).
G - Gamma (atypical mixture of polarities).
BG - Beta-Gamma (mixture of polarities in a dominantly bipolar configuration).
D - Delta (opposite polarity umbrae within single penumbra).
BD - Beta with a Delta configuration.
BGD - Beta-Gamma with a Delta configuration.
[Latest NOAA Sunspot Summary]
[Latest Solar Region Summary (SRS)]
[SolarHam Sunspot Summary]