The Sun Today : Updated October 8, 2015
Solar Flare Risk

M-Class: 01%

X-Class: 01%




Active Watches

Geomag. Storm YES

Radiation Storm NO
| | | |
| --- | --- | --- |
| | Solar X-Rays: | Geomagnetic Field: |
3-Day Geomagnetic Forecast [Details]
October 9

October 10

October 11

5 (G1)
Max Kp

4 (G0)
Max Kp

4 (G0)
Max Kp

Prob-M 25%
Prob-H 60%

Prob-M 10%
Prob-H 30%

Prob-M 10%
Prob-H 35%
REAL TIME SOLAR WIND - [ACE]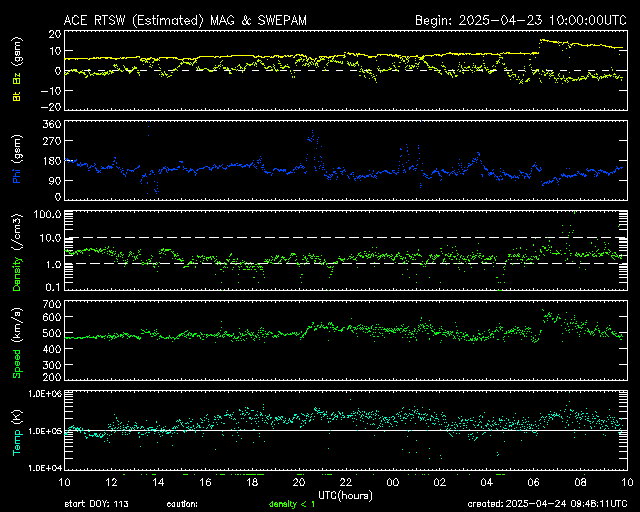 GLOBAL D-LAYER ABSORPTION
[Expand]
[Expand]
[More Magnetometers]
SolarHam is a website all about the Sun and how it affects Earth. It is also an Amateur (Ham) Radio website.

SolarHam is routinely updated with breaking news, sometimes hours before other Space News websites. You can trust SolarHam.com for the most up to date and accurate solar information on the internet.

SolarHam.com launched on March 15, 2006. The purpose of the website is to provide real time solar news, as well as data from various sources, all located in one spot for easy navigation. Sources include,

NOAA Space Weather Prediction Center (SWPC),
Solar Dynamics Observatory (SDO),
Solar and Heliospheric Observatory (SOHO),
Solar Terrestrial Relations Observatory (STEREO),
Advanced Composition Explorer (ACE),
Large Angle and Spectrometric Coronagraph Experiment (LASCO),
as well as many others.

This website is only online because of the kind financial support of its users and sponsors. If you would like to support the work that I do, please consider a donation if at all possible. Click HERE for more information.
49,625,000
Unique Visitors
Since April, 2006
Thank You!

AVERAGES | SEPT. Solar Flux 102.1
| Sunspots 72.5
| Flare Max M7.6
Welcome to SolarHam.com &nbsp All of your solar and aurora needs in one place!
Latest Space Weather News and Updates
Off The Map Travel

Wishing you could see the northern lights?
Make that dream a reality!
Visit Off The Map Travel today.
October 8, 2015 @ 19:20 UTC
Aurora Extravaganza / Storming Continues
Aurora imagery continues to invade the SolarHam inbox from the geomagnetic events of the past 48 hours. Below is nice example sent to us by Gareth Hutton in Finland. Other fine imagery is also linked below. Thanks for sharing!

As of this update at 19:20 UTC (Oct 8), Minor (G1) to Moderate (G2) storming continues with the solar wind just above 700 km/s. Sky watchers should again be alert this evening once it is dark outside.
Additonal aurora imagery courtesy of Robert Fry in Ontario, Canada and Mike Taylor in Maine, USA.
October 7, 2015 @ 19:25 UTC
Aurora Watch / Strong Geomagnetic Storm in Progress
A high speed solar wind speed containing periods of southward Bz continues to interact with our geomagnetic field. Strong (G3) geomagnetic storming is being observed at high latitudes. Further storming will remain possible during the next 24 hours. Sky watchers should be alert for visible aurora displays once it is dark outside. VHF aurora operators should also have their antennas pointed north as AU contacts will also be likely.

UPDATE @ 09:00 UTC (Oct 8): Geomagnetic storming continues on Thursday morning at high latitudes. The solar wind remains above 700 km/s and the Bz component of the IMF is currently neutral at the time of this update. Minor to Moderate storming will remain possible today.

ALERT: Geomagnetic K-index of 7
Threshold Reached: 2015 Oct 07 1909 UTC
Synoptic Period: 1800-2100 UTC
Active Warning: Yes
NOAA Scale: G3 - Strong

Aurora Over Alaska - By Sacha Layos
More great imagery courtesy of Marketa Murray in Alaska and Tony Travaglia in New Zealand (Aurora Australis).
October 6, 2015 @ 13:00 UTC
Mid Latitude Coronal Hole / Storm Watch (UPDATED)
A Moderate (G2) geomagnetic storm watch was added for later this week. A middle latitude coronal hole is moving into a geoeffective position and an expected solar wind stream flowing from this zone could reach Earth by October 7th. Sky watchers at higher latitudes should be alert for visual aurora displays beginning Wednesday. Stay tuned to SolarHam.com for the latest information.
October 5, 2015 @ 00:50 UTC
Quiet Times Ahead?
Quiet Times Ahead? Good evening. Here is an updated look at the visible solar disk as we head into Monday. Solar activity declined to very low levels as sunspot 2422 rotated further behind the west limb and out of directed Earth view. This leaves us with only sunspot 2427 which appears to be fairly stable for the time being. Isolated C-Flares will be possible during the next 24 hours.

Geomagnetic activity ranged from quiet to minor (G1) storm levels during the past 24 hours. An enhanced solar wind stream could still lead to elevated geomagnetic conditions at very high latitudes during the next day or so. Sky watchers at higher latitudes should remain alert for visible aurora displays once it is dark outside. Stay tuned to SolarHam.com for the latest details.
---
Older News Archive | Current Month


Prepared jointly by the U.S. Dept. of Commerce, NOAA,
Space Weather Prediction Center and the U.S. Air Force.
UPDATED 2015 October 9 0030 UTC

.24 hr Summary...
Solar activity was very low.  Only low level B-class flaring was
observed from Region 2427 (N18, L=038) off the NW limb.  Region 2429
(S19E32, Bxo/beta) was in decay and new Region 2430 (S17E60, Hrx/alpha)
was numbered during the period.  No Earth-directed coronal mass
ejections were observed during the period.

.Forecast...
Solar activity is expected to be very low with a slight chance for
C-class flares for the forecast period (09-11 Oct).


[Full Report and Forecasts]
[Report of Solar-Geophysical Activity]


A - Alpha (single polarity spot).
B - Beta (bipolar spot configuration).
G - Gamma (atypical mixture of polarities).
BG - Beta-Gamma (mixture of polarities in a dominantly bipolar configuration).
D - Delta (opposite polarity umbrae within single penumbra).
BD - Beta with a Delta configuration.
BGD - Beta-Gamma with a Delta configuration.
[Latest NOAA Sunspot Summary]
[Latest Solar Region Summary (SRS)]
[SolarHam Sunspot Summary]