The Sun Today : Updated May 25, 2019
Solar Flare Risk

M-Class: 01%

X-Class: 01%




Active Watches

Geomag. Storm NO

Radiation Storm NO
| | | |
| --- | --- | --- |
| | Solar X-Rays: | Geomagnetic Field: |
3-Day Geomagnetic Forecast [Details]
May 25

May 26

May 27

3 (G0)
Max Kp

2 (G0)
Max Kp

2 (G0)
Max Kp

Prob-M 05%
Prob-H 20%

Prob-M 01%
Prob-H 15%

Prob-M 01%
Prob-H 15%
DSCOVR REAL TIME SOLAR WIND | ACE

24 Hour Geospace (Latest)



GLOBAL D-LAYER ABSORPTION
[Expand]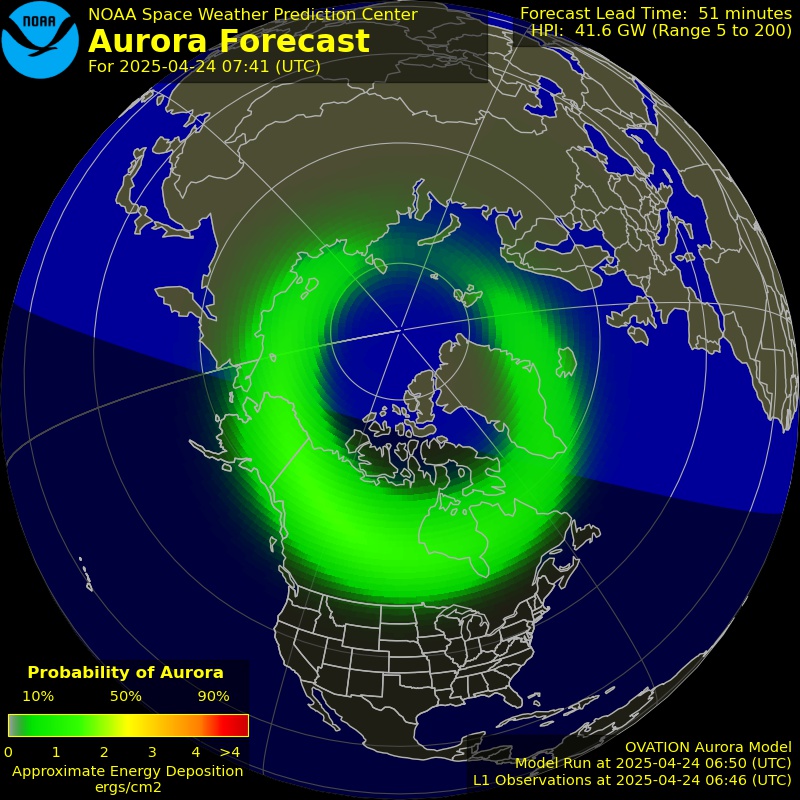 [Expand]
[More Magnetometers]
SolarHam is a website all about the Sun and how it affects Earth. It is also an Amateur (Ham) Radio website.

SolarHam is routinely updated with breaking news, sometimes hours before other Space News websites. You can trust SolarHam.com for the most up to date and accurate solar information on the internet.

SolarHam.com launched on March 15, 2006. The purpose of the website is to provide real time solar news, as well as data from various sources, all located in one spot for easy navigation. Sources include,

NOAA Space Weather Prediction Center (SWPC),
Solar Dynamics Observatory (SDO),
Solar and Heliospheric Observatory (SOHO),
Solar Terrestrial Relations Observatory (STEREO),
Advanced Composition Explorer (ACE),
Large Angle and Spectrometric Coronagraph Experiment (LASCO),
as well as many others.
77,100,000
Unique Visitors
Since April, 2006
Thank You!

AVERAGES | APR. Solar Flux 72.4
| Sunspots 11.5
| Flare Max -
Welcome to SolarHam.com &nbsp All of your solar and aurora needs in one place!
Latest Space Weather News and Updates
May 18, 2019 @ 01:20 UTC
Geomagnetic Activity is Quiet
Geomagnetic activity is currently at quiet levels. Another coronal mass ejection (CME) that was expected to deliver a glancing blow to our geomagnetic field may have missed or was too weak to notice. The geomagnetic forecast released by the NOAA Space Weather Prediction Center (SWPC) is no longer calling for geomagnetic storm conditions. Widespread aurora beyond the polar zones is unlikely tonight.
May 16, 2019 @ 09:30 UTC
Geomagnetic Storm Watch Part 2
Another round of geomagntic storming is in the forecast beginning today when a second coronal mass ejection (CME) is expected to possibly deliver a glancing blow to our geomagnetic field. Sky watchers at higher latitudes should again be alert for visible aurora once dark outside.
May 13, 2019 @ 09:00 UTC
Surprise Geomagnetic Storm
Surprise! A strong (G3) geomagnetic storm is currently in progress thanks to an enhanced solar wind stream containing a sharply south pointing Bz. Visible aurora is likely at middle to high latitudes if it is still dark outside.
ALERT: Geomagnetic K-index of 7
Threshold Reached: 2019 May 14 0859 UTC
Synoptic Period: 0600-0900 UTC
Active Warning: Yes
NOAA Scale: G3 - Strong
May 13, 2019 @ 21:25 UTC
Filament Eruptions / Multiple CMEs
A number of filament eruptions in the vicinity of Region 2741 were observed by the Solar Dynamics Observatory (SDO) during the past several days. At least one or two of these are predicted to deliver a glancing blow to our geomagnetic field this week. The first such impact is expected on Wednesday (May 15). Aurora sky watchers should be alert during the next several nights while we await the incoming plasma clouds.
May 11, 2019 @ 12:50 UTC
Bz South / Minor Storming
The Bz component of the interplanetary magnetic field, carried past Earth via the solar wind, remains pointed south and this continues to disturb our geomagnetic field. A minor (G1) geomagnetic storm watch is currently in effect. This all takes place following a weak CME passage on Friday. Visible aurora will be possible at high latitudes should local light and weather conditions allow.
WARNING: Geomagnetic K-index of 5 expected
Valid From: 2019 May 11 1250 UTC
Valid To: 2019 May 11 1800 UTC
Warning Condition: Onset
NOAA Scale: G1 - Minor
---
Older News Archive | Current Month


Prepared jointly by the U.S. Dept. of Commerce, NOAA,
Space Weather Prediction Center.
UPDATED 2019 May 25 0030 UTC

.24 hr Summary...
Solar activity remained very low. The visible disk remained spotless
with no Earth-directed CMEs observed in available satellite imagery.

.Forecast...
Solar activity is expected to remain at very low levels on 25-27 May.

[Report of Solar-Geophysical Activity]


A - Alpha (single polarity spot).
B - Beta (bipolar spot configuration).
G - Gamma (atypical mixture of polarities).
BG - Beta-Gamma (mixture of polarities in a dominantly bipolar configuration).
D - Delta (opposite polarity umbrae within single penumbra).
BD - Beta with a Delta configuration.
BGD - Beta-Gamma with a Delta configuration.
[Latest NOAA Sunspot Summary]
[Latest Solar Region Summary (SRS)]
[SolarHam Sunspot Summary]