The Sun Today : Updated July 29, 2016
Solar Flare Risk

M-Class: 01%

X-Class: 01%




Active Watches

Geomag. Storm NO

Radiation Storm NO
| | | |
| --- | --- | --- |
| | Solar X-Rays: | Geomagnetic Field: |
3-Day Geomagnetic Forecast [Details]
July 29

July 30

July 31

4 (G0)
Max Kp

3 (G0)
Max Kp

2 (G0)
Max Kp

Prob-M 10%
Prob-H 35%

Prob-M 05%
Prob-H 30%

Prob-M 01%
Prob-H 20%
REAL TIME SOLAR WIND - [ACE]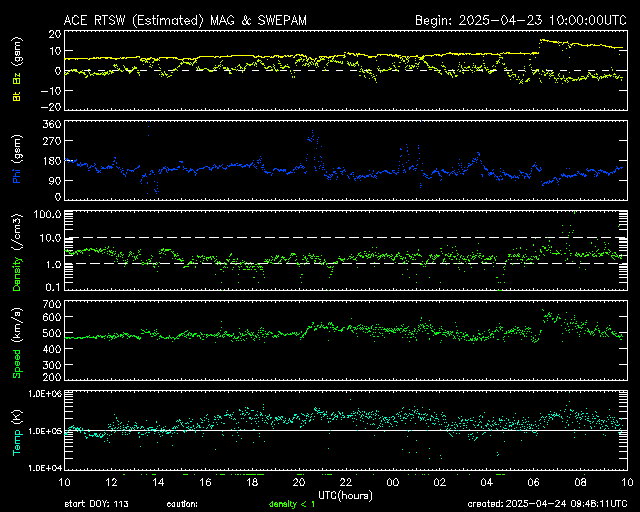 GLOBAL D-LAYER ABSORPTION
[Expand]
[Expand]
[More Magnetometers]
SolarHam is a website all about the Sun and how it affects Earth. It is also an Amateur (Ham) Radio website.

SolarHam is routinely updated with breaking news, sometimes hours before other Space News websites. You can trust SolarHam.com for the most up to date and accurate solar information on the internet.

SolarHam.com launched on March 15, 2006. The purpose of the website is to provide real time solar news, as well as data from various sources, all located in one spot for easy navigation. Sources include,

NOAA Space Weather Prediction Center (SWPC),
Solar Dynamics Observatory (SDO),
Solar and Heliospheric Observatory (SOHO),
Solar Terrestrial Relations Observatory (STEREO),
Advanced Composition Explorer (ACE),
Large Angle and Spectrometric Coronagraph Experiment (LASCO),
as well as many others.
56,463,000
Unique Visitors
Since April, 2006
Thank You!

AVERAGES | JUNE Solar Flux 81.9
| Sunspots 19.9
| Flare Max C6.5
Welcome to SolarHam.com &nbsp All of your solar and aurora needs in one place!
Latest Space Weather News and Updates
Off The Map Travel

Wishing you could see the northern lights?
Make that dream a reality!
Visit Off The Map Travel today.
July 25, 2016 @ 01:10 UTC
Blank Disk
After four days of moderate to high solar activity thanks to region 2567, the visible disk is now blank and the solar flux has dropped to 82. Region 2567, the source of 7 M-Class solar flares between July 21st and 24th, is now located behind the west limb and the chances for detectable flare activity will decline as it moves further onto the farside of the sun. Whatever remains of the region will begin to rotate back into view in another two weeks.

In other news, a brief period of minor (G1) geomagnetic storming was observed at higher latitudes thanks to an elevated solar wind stream. Isolated periods of enhanced activity will remain possible during the next 24-48 hours. Stay tuned to SolarHam.com for the most up to date spaceweather data and imagery.

No Visible Sunspots
July 23, 2016 @ 11:40 UTC
Trio Of Solar Flares (UPDATED)
Region 2567 is going out with a bang. Three moderately strong solar flares were observed early Saturday morning around the departing region. The first was an M5.0 at 02:11 UTC (July 23). The second event, a strong M7.6 at 05:16 UTC, was quickly followed up by an impressive M5.5 event at 05:31 UTC. The third event (M5.5) was associated with a 10cm Radio Burst, Type II and IV radio emissions, and a coronal mass ejection (CME) that appears to be directed away from our planet. Other than the brief radio blackouts at the time of the flaring, no major impacts to our planet is to be expected. Stay tuned to SolarHam.com for the latest information.

M7.6 Solar Flare
---
Older News Archive | Current Month


Prepared jointly by the U.S. Dept. of Commerce, NOAA,
Space Weather Prediction Center and the U.S. Air Force.
UPDATED 2016 July 29 1230 UTC

.24 hr Summary...
Solar activity was very low and only background flare activity was
observed this period.  New Region 2570 (N10E52, Bxo/beta) was numbered
this period but was stable and unproductive.

A filament eruption centered near N01E06 was observed in SDO/AIA 304
imagery beginning at 28/1620 UTC.  An associated coronal mass ejection
(CME) was observed in SOHO/LASCO C2 coronagraph imagery beginning at
28/2224 UTC but is not Earth-directed.
  
.Forecast...
Solar activity is expected to remain at very low levels throughout the
forecast period (29-31 Jul).

[Report of Solar-Geophysical Activity]


A - Alpha (single polarity spot).
B - Beta (bipolar spot configuration).
G - Gamma (atypical mixture of polarities).
BG - Beta-Gamma (mixture of polarities in a dominantly bipolar configuration).
D - Delta (opposite polarity umbrae within single penumbra).
BD - Beta with a Delta configuration.
BGD - Beta-Gamma with a Delta configuration.
[Latest NOAA Sunspot Summary]
[Latest Solar Region Summary (SRS)]
[SolarHam Sunspot Summary]